Karibu Loo was created to help solve two of the greatest needs in Kenya – better sanitation and providing education.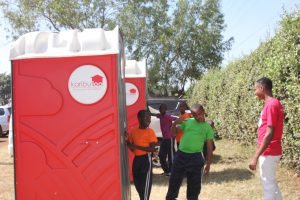 This would be achieved by:
Firstly, providing a clean, high-quality mobile toilet experience
Secondly, generating a stream of income to support our mission of "educating children in Nairobi's slums"
Thirdly, providing employment for graduates of our program.
The integrated tagline in the round red logo says "helping educate children", clearly stating our business purpose.
Our positioning is to provide a clean, high-quality portable toilet experience, while also allowing clients to know they are acting as responsible corporate citizens, by supporting an organization whose mission is to empower Nairobi children living in poverty to transform their lives through education and support, leading to employment.
All profits from our sanitation business go to funding education and support for children in the slum of Nairobi to help transform their lives, leading to employment.  Profits are distributed through the auspices of the Ngong Road Children's Foundation. Learn More
Our Business

Our business is renting high-quality mobile toilets to people who have a need for sanitation at their social events or business.
We exclusively use the Mondo model from U.S.-based Satellite Industries. The distinct Mondo design is an attractive alternative to other mobile toilets.
All of our mobile units are represented in our vibrant red and provide many user advantages. They have a spacious, well-ventilated interior, designed to reduce odors by using simple, yet important features. In addition, a combination of floor and molded-in wall vents promote continuous airflow. Moreover, the urinal drains down the vent pipe, which prevents unwanted tank odors from venting back into the cabana. Last but not least, the seat is positioned at the furthest point from the urinal, away from odor and the user's direct sight.
Together, these features provide a more comfortable, pleasant experience for the user.